ENDING SOON!!! NA ARP Monthly Sweepstakes-Gigantic Founder's Pack
ENDING SOON!!! NA ARP Monthly Sweepstakes-Gigantic Founder's Pack
Enter Now at the Link Above for a Chance to Win:
Gigantic Founder's Pack (ARV $39.99USD)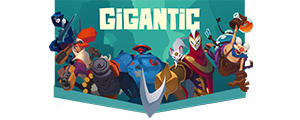 Gigantic is a fast and fluid Strategic Hero Shooter, where you battle against and alongside massive Guardians, in deeply strategic team game play. You're ready to CHOOSE. You're dying to FIGHT. You're itching to POWER UP. It is your time to GO GIGANTIC with the Founder's Pack! The items in this pack will give you the freedom and style that you need to prevail in any clash between guardians. At a value of over $150, you would be crazy to pass up this opportunity! The Founder's Pack will no longer be sold at the end of the Open Beta period! 
With the Gigantic Founder's Pack you will receive the following items: 
Sixteen Launch Heroes 
Instantly unlock all of the Heroes that are available at the start of Open Beta! 
Four Future Heroes 
Unlock the next four Heroes that will be released throughout Open Beta! 
Limited Edition "Imperial" Skins 
Represent the first guardian houses with legendary skins for Tyto the Swift and Charnok! 
Founder Status 
Live forever as a Founder with two exclusive icons on your account profile! 
Sixteen Launch Heroes and Limited Edition Skins will be delivered to your account on the first day of Open Beta. The remaining four Heroes and the Profile Icons for Founder Status will be released at various times during Open Beta. 
Full details on the latest status of the game can be found at www.gogigantic.com.
Good Luck!
The Sweepstakes is open only to legal residents of the United States of America (excluding Rhode Island) and Canada (excluding Quebec) that are thirteen years of age or older as of June 5, 2017. If you are not a legal resident of any of these areas, you are not eligible to participate in the Sweepstakes.
INFORMATION
Win a Gigantic Founder's Pack