Dead by Daylight DLC Giveaway
Today's DLC is Hellraiser LVL 20+
In celebration of the new Hellraiser chapter release, every day from Sept. 13th to 17th a new DLC will be available to claim. You can only claim ONE DLC before you are locked out. Choose carefully...
The Hellraiser DLC:
Hellraiser is a new Chapter in Dead by Daylight. It includes a new Killer, Pinhead. Purchasing the add-on unlocks both the new Killer and an exclusive universal charm: Lament Configuration. 
Demon to some, angel to others, the new Killer is Pinhead: leader of an extra-dimensional group of beings known as the Cenobites. Devoted to exploring the furthest regions of experience through the limitless thrill of pleasure and pain, Pinhead uses hooks and chains to attack his victims, tearing their flesh, and souls apart in the process.
When the puzzle box known as the Lament Configuration – a key to Pinhead's dimension – was discovered and opened in The Entity's Realm, he arrived, ready to bestow sweet suffering upon any who crossed his path. 
About the game:
Dead by Daylight is an asymmetrical multiplayer horror game where one player takes on the role of a brutal killer and the other four play as Survivors. As a Killer, your goal is to sacrifice as many Survivors as possible. As a Survivor, your goal is to escape and avoid being caught and killed.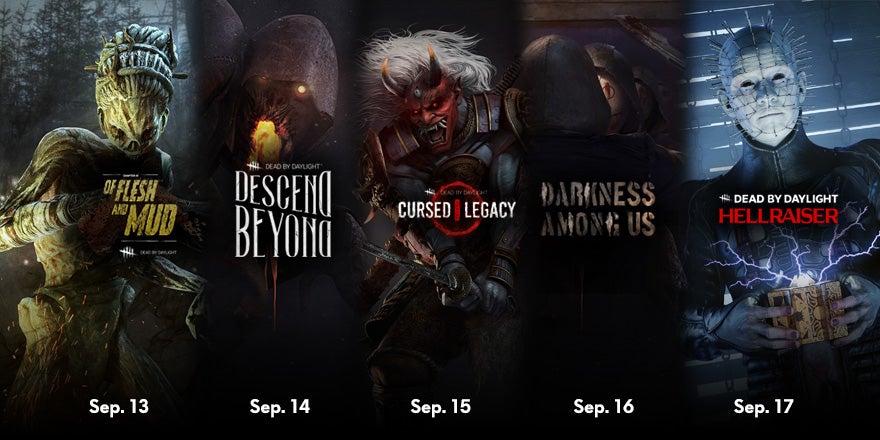 More DLCs included in the giveaway
Of Flesh and Mud DLC:
A hag driven to madness by being devoured alive piece by piece. A survivor that believes luck is always on his side. A wetland with scorched shacks, an eerie mud maze and a rusting boat graveyard lays ahead of you, so tread carefully.
Darkness Among Us DLC:
The everyday contains many hazards. But the comforts of routine shroud the unfathomable risks of a threat so intimate, so familiar, that it can only be seen in hindsight. A disturbing, violent force could be raging within the people closest to you. Darkness is among us, every day.
Cursed Legacy DLC:
What does it mean to be authentic? How does one follow one's destiny despite the pressures of family and tradition? Often following one's path is a strenuous, narrow struggle full of unexpected joys and difficulties. Ultimately it's about finding the balance between tradition and self-actualization. But as one struggles for identity, decisions are made and consequences, good or bad, must be faced.
Descend Beyond DLC:
The Blight, a bright and ambitious chemist who sought to enhance humanity through the use of his compounds, only to become a victim of his ambitions, is the new Killer. After his research was stolen, The Blight was lured into the Realm of the Entity by the promise of new, forbidden knowledge. The new survivor is Felix Richter, an eccentric architect with a unique vision. Returning to the mysterious island where his father had disappeared, Felix descended into the darkness beyond and was never seen again.
How To Get Your Giveaway
2. Click the "GET KEY" button.
4. Follow the on-screen instructions and insert your key.