Lineage II: New Player Pack Giveaway
Celebrate the Wild Horizons update released for Lineage II. Claim your key to receive the New Player pack from Alienware Arena!
*Code is only valid for North and South America regions.
Unlock powerful weapons and armor as well as XP and battle boosts!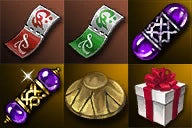 About the game:
Lineage II is a traditional massively multiplayer online game that offers players an expansive role-playing environment with colossal PvP siege battles and epic raid encounters.
Join a clan or grow your own to battle rival clans for castle ownership and bragging rights.
With challenging level progression and regular updates, Lineage II tells the story of ongoing war-torn lands and challenges that await on every corner. Find out more and download the game at www.lineage2.com
About Wild Horizon update:
The Wild Horizons update includes several changes to improve player experience through the new item collection system, adjusted Hunting Zones for better leveling options, fresh skills to acquire, and improvements to clan missions. Lineage II Classic will feature a new raid hunting system, expansion to clan opportunities, and more. 
©2021 NCSOFT Corporation. All rights reserved. All trademarks are the property of their respective owners.
How To Get Your Giveaway
2. Click the "GET KEY" button.
4. Download Lineage II, then log in to a Lineage II sever and create your character if you're a new player
5. Log into your NCSOFT Account, go to the "Apply a Code" section, enter your Lineage II Live New Player Pack code and press "Activate". You will then need to select your Live server and the character you wish to receive the New Player Pack. Once selected, the pack will be sent to the in-game Dimensional Warehouse.
6. You will receive a confirmation email when your code has been applied.
7. Log in to the Lineage II Live server with the character you selected when you applied the code and navigate to a Dimensional Warehouse NPCin the nearest town to claim your New Player Pack.