Path of Exile Delirium: Arcane Horns Key
Alienware Arena Exclusive Arcane Horns
Be the envy of your friends.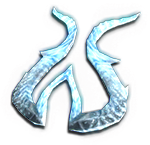 The Arcane Horns are making their exclusive debut on Alienware Arena. They can be worn with your current helmet and imbue it with an arcane theme. 
About Path of Exile: 
You are an Exile, struggling to survive on the dark continent of Wraeclast, as you fight to earn power that will allow you to exact your revenge against those who wronged you. Created by hardcore gamers, Path of Exile is an online Action RPG set in a dark fantasy world. With a focus on visceral action combat, powerful items, and deep character customization.
Path of Exile is completely free and will never be pay-to-win. Experience Delirium now by visiting pathofexile.com
How To Get Your Giveaway
2. Click the "GET KEY" button.
4. Redeem your code here.