Star Trek Online Alliance Reborn MatHa Bundle
About the game:
Star Trek Online is an expansive sci-fi MMORPG full of characters, ships, and storylines from the iconic Star Trek television shows and movies. Explore strange new worlds, seek out new life and new civilizations, and boldly go where no one has gone before.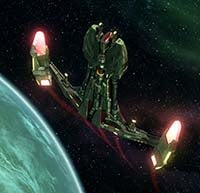 What's included: 
T6 MatHa Raptor
Elite Services Starter Pack

36 Inventory Slots
36 Bank Slots
2 Bridge Officer Slots
3 Captain Retrain Tokens
*Items will appear in the Promo Tab of the C-store and can be claimed once the character has passed the tutorial.
*Ship is unlocked for the account and is Klingon Faction only.
*Elite Services Pack is unlocked once on character is claimed on.
*Please note that these codes are only redeemable for the PC version of Star Trek Online All keys expire on December 31, 2022.
How To Get Your Giveaway
2. Click the "GET KEY" button.
4. Log into your account or sign up for free
5. Click the gear icon at the top right of the Arc Client
6. Select "Activate a Product" and enter your code
7. Launch the game and complete the Tutorial
8. Claim the item from the Zen Store in the "Promotions" tab